Toroid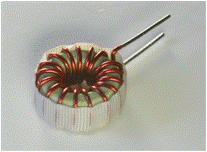 What is a Toroid?
Toroid is the core shape of the common mode chokes. A continuous circular path aids in maximizing the magnetic coupling between the windings. This minimizes leakage inductance. A toroid is inexpensive compared to the other type (E cores).
The toroids have a simple coil wound around a cylindrical structure, which is then bent into a doughnut shape. This merges the poles and creates an external magnetic field with regular polarities. A toroid coil also has the magnetic flux largely kept inside the coil to lessen magnetic radiation from the coil and sensitivity to the external fields.
Applications:
Computer monitor cables.


Power Supplies.


Radio


Ham Radio


Scanners


Transmitters


Transformers
Most of the Electro-Magnetic applications.