Chip Inductor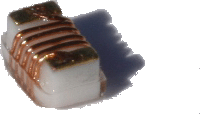 What is a chip inductor?
A chip inductor is usually available in a high frequency; multi-layer form and feature a low-loss ceramic, monolithic body with metal electrodes of high conductivity enclosed within. Overall, it aids in achieving optimal performance in catching high frequency signals.
Compact and often featuring lead-free tin-plated nickel barrier terminations, chip inductor comes in a tape and reel packaging. It helps them to be an ideal choice for high volume wireless applications requiring small size components to be fitted in.
Chip inductor is used mostly in the automated assemblies. They are capable of providing maximum protection for solder welding and/or solder re-flow. A wide inductance range being their prime forte, chip inductors are widely chosen for almost all broadband as well as Radio Frequency applications.
Applications:
Wireless Local Area Networking.
All Broadband Components.
Radio Frequency Identifiers and Transceivers.